12 December 2009
Not so Subtle Christmas Elf
11 December 2009
Patience - Or Not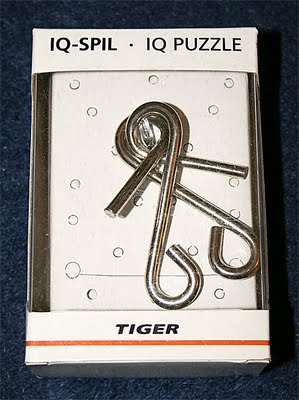 Why are these puzzles called "IQ puzzles"?
In my opinion, the only thing you need to solve these kind of puzzles is a ton of patience - and possibly the ability to visualise objects spacially. I am very good at the latter. Patience can be a different matter, though. At times I have tons of patience. It just oozes out of me. But today I had none. I cheated. After a "very" short trial period I just looked at the solution. Actually, you can only use the solution paper if you can visualise objects spacially, since it is kind of hard to draw a movement in two dimensions - at least for this puzzle it is.
10 December 2009
More Room for Tea
09 December 2009
Winter Tea
08 December 2009
Patterns and Early Christmas Presents
07 December 2009
Muahahahaha!
06 December 2009
Pretty
05 December 2009
Nam Nam Nam
04 December 2009
Christmas Baking?
03 December 2009
Tired and Restless
02 December 2009
Groggy, Groggy, Groggy
01 December 2009
Time Flying By
Subscribe to Posts [Atom]