12 December 2009
Not so Subtle Christmas Elf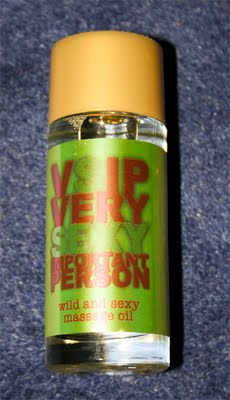 Ok, what is this Christmas Elf trying to tell me??
First, the Christmas Elf wants me to
grow a boyfriend
and now I get this "wild and sexy massage oil".
Not very subtle ;-)
And I can just see the boyfriend using this gift as an excuse for getting daily massages...
Comments:
No, no, as the oil was a gift for you, it us surely meant to be applied on your skin.
So the boyfriend has to give _you_ daily massages :-)
Post a Comment
<< Home
Subscribe to Posts [Atom]