14 June 2008
First Birthday Party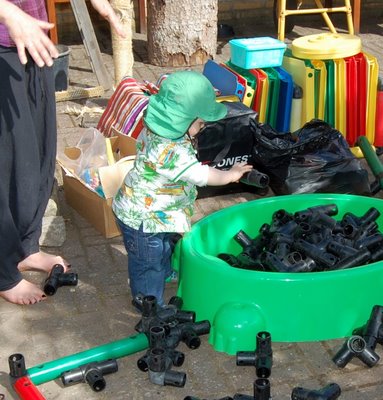 Yesterday, Christian Marius turned one. Today he had his first birthday party. The house was filled with family and friends - some of which arrived a day early and scared the heck out of him. (Grandma just doesn't look like Grandma in her nightgown.)
One of the best presents was the arrival of aunt, uncle and cousin from the Netherlands. They brought (among many other things) this outdoor building set.
Here you can see Christian Marius inspecting the linking pieces.
Of course you cannot unpack such a nice toy and expect physicists and IT-nerds (of any age) to idly stand by. The blueprints for a house were quickly sketched, and the team swiftly began with the construction.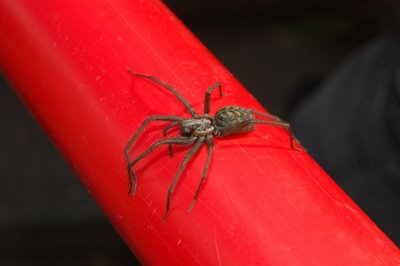 Upon reassembling the many colorful pieces we disturbed this gigantic spider which had traveled from the Netherlands to Denmark inside one of the tubes. I hope it will find a new home here in Denmark (but very far away from me!).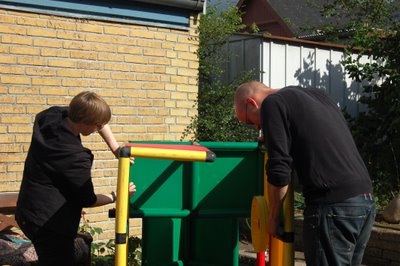 At last, it was just Kristian and I who had the persistence to finish the project. Little Christian
(Marius)
often came to help which earned him lots of praise from various bystanders much to the frustration of big Kristian who thought that he too had earned some praise. I must admit that it was him who did all the hard work. I was just not strong enough to turn the fastening bolts.
All in all a nice, sunny and very exhausting day. :-)
Labels: Christian Marius
05 June 2008
First Postcard in French!
Today I received my first postcard written in french! And I also replied in french! It was surprisingly easy to understand and surprisingly hard to reply. I hope she understood what I wrote.
Maybe I should brush up my french...
Labels: Postcrossing
Subscribe to Posts [Atom]